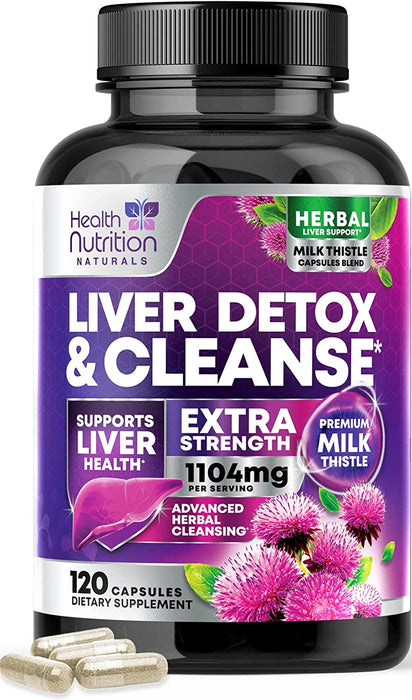 Gentle Liver Cleanse Detox & Repair Formula - Herbal Liver Support Supplement: Milk Thistle with Silymarin, Artichoke Extract, Dandelion, Beet, Chicory Root, & Turmeric for Liver Health
Revitalize & Cleanse Your Body
As the saying goes, "When you take care of your body...
...Your body takes care of you

Your body is designed for health. Your cells express themselves through chemical reactions instead of words. If you body is telling you that it needs a change, revitalize and cleanse it from the inside out with Health Nutrition supplements.

Our Liver Cleanse product contains a premium formula with 21 herbs packed into easy to take capsules. Our 1104 mg, 2 capsule daily serving is packed with

Milk Thistle - A 200mg "Powerhouse" of plant compounds known as silymarin which support your liver.

Beet Root - Don't confuse our beet root with white sugar beets used for extracting sugar and sweetening processed substances. Our beet root is genetically and nutritionally different. It is rich in folate (vitamin B9) which plays a key role in supporting the liver.

Artichoke Extract - One of the few herbs where clinical and experimental trials have complemented each other. Artichoke extract is an excellent source of fiber, vitamins, minerals, and antioxidants. Get the health benefits of the artichoke plant without having to deal with the mess.

Dandelion - While annoying for gardeners, dandelion plants can be an important part of your daily routine. They support the liver's ability to filter and are a good source of c vitamins.

Chicory Root - Another plant that comes from the dandelion family, Chicory root is high in Inulin, a type of fiber that acts as a prebiotic.

Jujube Fruit Extract - Also known as "Chinese date," jujube fruits are rich in several antioxidant compounds and vitamins.

21 Herbs Total: Top quality ingredients to support liver health.


Gentle Liver Care: Support liver cleanse & detox with our milk thistle extract capsules enriched with yarrow chicory root powder chanca piedra berberine and more for a deep liver cleanse

Milk Thistle Powerhouse (200MG): The active ingredients in milk thistle, called silymarins, are known to support the liver and kidneys

Liver Support: We use potent milk thistle seed extract in our liver pills with the added power of dandelion root powder ginger root powder turmeric root and yarrow to support your liver

Herbal Complex: 21 natural, effective, plant based ingredients are carefully designed to support digestion and to provide energy for active lifestyles

Trusted Formula: Health Nutrition supplements are non-GMO and bottled in the USA following strict cGMP guidelines; Each batch is third party lab reviewed to ensure quality and purity