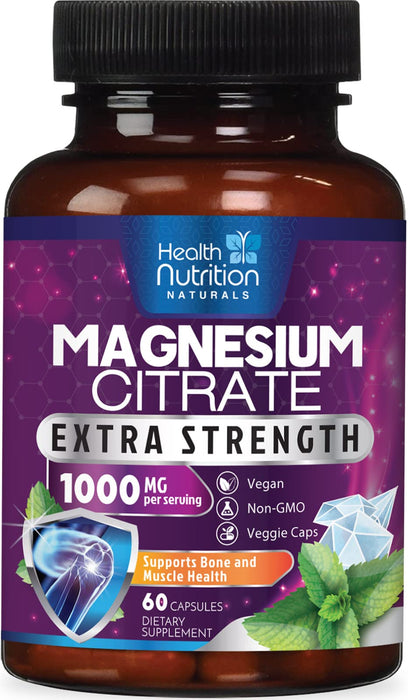 Magnesium Citrate 1000mg - Max Strength Magnesium Capsules for Muscle, Nerve, Bone and Heart Health Support, Natural Sleep Support, High Absorption Citrate Oxide Powder Complex - Parent
Magnesium Citrate High Potency Magnesium Citrate Capsules 1000mg - Chelated for High Absorption - bottled in the USA - Best Bowel Supplement that Supports the Colon and Supports Sleep and Supports Heart Health
Supplement Facts (per 2 Veggie Capsules):
Magnesium (as Oxide / Citrate) - 1000 mg
Other Ingredients Hydroxypropyl Methylcellulose, Microcrystalline Cellulose, Vegetable Magnesium Stearate, Silicon Dioxide.
Each batch is proudly manufactured and bottled in the USA facility following strict cGmp guidelines. Our Magnesium Citrate Capsules are third-party certified for purity and quality by an experienced dietary supplement laboratory.
Magnesium Citrate Capsules 1000mg: We have packed 1000mg of Magnesium into each two capsule serving (500mg / Capsule) for better absorption and use
Digestive Support: Magnesium Citrate is often used to support occasional constipation
Easy and Convenient: Often, when magnesium citrate is taken as a liquid, the taste can be horrible; With our serving of 2 capsules
Stomach Wellness: Our premium mix of Magnesium Citrate and Magnesium oxide is the perfect blend to help heartburn, sour stomach, or acid indigestion
Magnesium Citrate Capsules 1000mg: Citrato de magnesio 1000 similar to 200 200mg 250 250mg 400 400mg 500 500mg capsule for adults liquid best calm complex caps occasional constipation and cramps support sleep leg made pure mag magnecio men mg naturals nature nutrition pills powder softgels health supplement supplements natural tablets vitamin women now