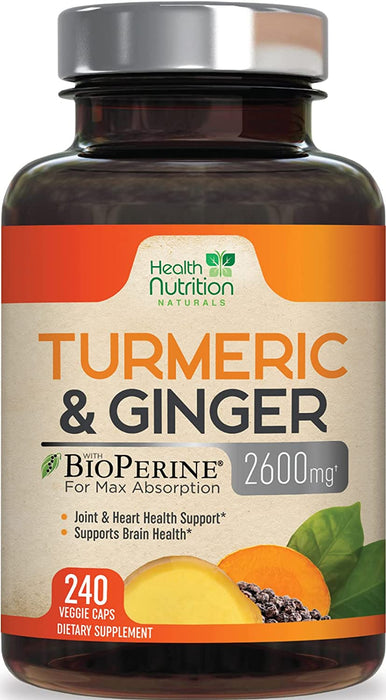 Turmeric Curcumin 95% Standardized with Ginger and BioPerine 2600mg - Black Pepper for High Absorption, Made in USA, Vegan Joint Support, Turmeric Ginger Supplement
Turmeric Curcumin with Ginger and BioPerine
by Health Nutrition Naturals

For Immune Support and Natrual Joint Health Support with 2,200 mg of Turmeric, 400 mg of Ginger, and 20 mg of BioPerine

Let Health Nutrition Naturals become your trusted source for Turmeric because:

95% Standardized Curcumin: Health Nutrition Naturals Turmeric Capsules include turmeric extract which is standardized to contain 95% curcuminoids. Curcuminoids are the most potent compound in turmeric root with powerful antioxidant properties to maximize effectiveness.

Improved Absorption and Bioavailability: Despite their potential, many herbs and supplements can have limited benefits due to poor absorption into the body. Our Turmeric Curcumin formula includes BioPerine (Black Pepper extract) which has been clinically shown to improve absorption and bioavailability by up to 2,000%.

No Fillers, No Binders, and Non-GMO Ingredients: Our Turmeric with BioPerine has been formulated and developed to be natural with non-GMO ingredients. Our capsules do NOT contain fillers, binders, or rice flour...Just natural ingredients for your health.

Proudly bottled in USA with worldwide ingredients: We establish stringent quality standards in our state-of-the-art manufacturing facility and manufacture all our supplements to exceed expectations set by cGMP (Current Good Manufacturing Practices). We use natural and high-grade raw ingredients sourced from around the world, which are routinely examined for purity and quality.

Fully Examined to Protect Health: We verify each ingredient and examine them for purity and quality at multiple steps, all to protect our customers and to make sure our ingredients are free from impurities. The result is that we created a better value Turmeric product.


Turmeric Curcumin with Ginger and BioPerine: With 2200mg of pemium C3 Turmeric Curcumin Complex standardized to 95% Curcuminoids supports joint health
Premium C3 Turmeric Curcumin Complex: Our Organic Turmeric Root capsules including bisdemethoxycurcumin and demethoxycurcumin which are highly desirable in any turmeric supplement
Ginger and BioPerine: 400 mg Ginger and 20 mg BioPerine (Black Pepper) our supplements have been shown to improve absorption and bioavailability by as much as 2000x compared to turmeric alone
Trusted Formula: Our Turmeric is formulated and bottled in the USA following strict cGMP guidelines; Our Turmeric with BioPerine is third party tested to assure the quality and purity of each batch
Turmeric and Ginger Supplement bio bioperine black capsules complex cucurmin curcuma curcumin extract factor first health herbal house joint living nature nature's natures nutrition pepper plus premium root seen supplements tumeric tuneric turmic turneric vitamin