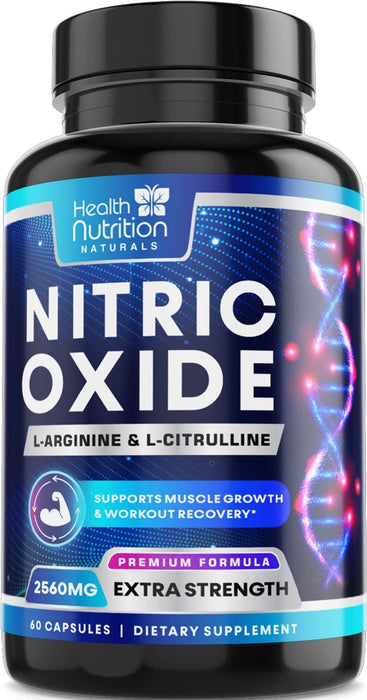 Health Nutrition Naturals - Nitric Oxide L-Arginine Supplement Capsules
An extra strength l-arginine Nitric Oxide Supplement with citrulline malate, aakg, beta alanine.

We've created this premium nitric oxide powerhouse to support muscle growth, activity, and energy.

It's packed with 1500mg of L-Arginine and L-Citrulline to supercharge natural nitric oxide production better than L-Arginine supplements alone.

Supplement Facts:
Niacin - 45mg
Calcium (as Calcium Carbonate) - 45mg
L-Arginine - 600mg
L-Arginine AKG 2:1 Extract - 600mg
L-Citrulline - 300mg
L-Citrulline Malate Extract - 300mg
Beta Alanine - 120mg
Inactive Ingredients: Cellulose (Vegetable Capsule), Magnesium Stearate (Vegetable), Silicon Dioxide

Did You Know:
L-arginine is an amino acid naturally found in red meat, poultry, fish, and dairy. It is necessary for making proteins and is converted in the body to a chemical called nitric oxide. Nitric oxide supports muscle growth, activity, and recovery.

Why Health Nutrition Naturals:
Premium Ingredients: We source the highest quality ingredients available while following strict cGMP guidelines.
Expertly Formulated: Each ingredient has been hand picked and is the result of years of research and quality standards that set us apart from other brands.
Lab Certified: Each batch is third party lab reviewed to ensure it meets our quality and purity standards.
L Arginine Extra Strength Nitric Oxide Supplement stack includes: L Arginine, Niacin, Calcium, L Arginine Akg 2:1 Extract, L Citrulline, Malate Extract and Beta Alanine; These extra strength ingredients provide for supercharged muscle pumps
Improve Training Success: Health Nutrition Naturals supplements for men and women are specially formulated with L-Arginine and L-Citrulline to support muscle growth and recovery from normal training routines
Full Stack Pre-Workout: Taking l arginine capsule before workout prepares the body and provides a powerful 'pump' at the gym
Premium Nitric Oxide: Our N.O. is specially formulated to support lean muscle growth and quick recovery from your workout routines so you can keep building muscle
Bottled in the USA: Our L Arginine Supplement is bottled in the USA following strict cGMP guidelines. Each batch is also reviewed for quality and purity by a third party lab